Tours
SCC European Concert Tour 2010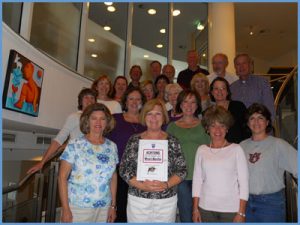 In June, 2010, the Southern Crescent Chorale returned to Europe for a second tour. Visiting and performing in Vienna, the same city as many of the music masters, was a thrilling experience for all of the Chorale. One of the highlights of the tour was the Prague concert which was a collaboration with the Emauzy Choir and Orchestra. Each group performed alone and then joined together to perform several pieces including Hallelujah Chorus from Handel's Messiah. It was a moving experience to share the joy of music with our fellow singers in Prague. The Chorale was also inspired by the story of an All Saints Church parishioner who told his story about the day the Berlin Wall fell. He presented the Chorale a plaque with a piece of the wall in appreciation for their performance.
Philip D. Murphy, U.S. Ambassador to Germany, attended that service and said:
"It was a pleasure to hear the Southern Crescent Chorale perform at mass at the All Saints Catholic Church in Berlin, Germany. I was so impressed. Through their musical outreach, they serve as real cultural ambassadors and the best representatives of our fine country to Germany and throughout the world."
SCC 2010 Concert Tour Appearances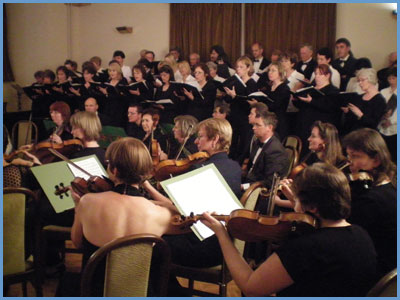 Vienna, Austria:  St. Stefan's Church
Eisenstadt, Austria: Esterhazy Palace
Eisenstadt, Austria: Domkirche St. Martin
Melk, Austria: Melk Abbey
Prague, Czech Republic: Emauzy Monastery
Berlin, Germany: All Saints Church
SCC Italy Concert Tour 2007
In June 2007, the Southern Crescent Chorale traveled to Italy for the Chorale's first European concert tour.  For eleven days, the Chorale toured the country and shared a joyful and stirring program with welcoming and enthusiastic audiences.  The varied program included opera and oratorio choruses, spirituals, and American show and pop music.
Vittoria Assettati of the Associazione Amici della Musica Sacra in Rome remarked:
"The Southern Crescent Chorale has been a gift for the City of Rome. Under the direction of Janice Folsom, they have performed a very beautiful concert in one of the historical churches of the Eternal City. Thanks to their music, they made alive that church and gave people some unique emotion they will keep with them for years. This choir is one of the best I heard in years. The audience was very enthusiastic about the concert and people did not leave the church until the last note."
A true highlight of the tour was the opportunity to perform in a rich variety of venues, from music festivals, to magnificent cathedrals to university campuses.  Chorale members were deeply moved by the beauty of the music performed in such glorious and often historic settings, and by the warmth and hospitality of the Italian people.
One Chorale member summed it up by saying:
"Although we traveled to Italy to share our music, we quickly realized we were also serving as ambassadors for our community and country.  We were overwhelmed by the enthusiastic reception we received everywhere we went.  It was a remarkable experience!"
SCC 2007 Italy Concert Tour Appearances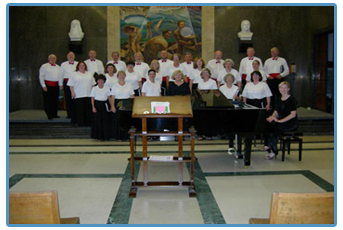 Asissi – Santa Maria degli Angeli Church
Florence – Societa Dante Alighieri
Milan – Duomo di Milano
Perugia – MUSICA DAL MONDO 2007 Aula Magna Universita per Stranieri
Pistoia – Villa Puccini di Scornio
Rome – Basilica Di S. Eustachio